Sreemathe Raamaanujaaya Namaha.
This webpage provides a compilation of articles, books and audios by Sri PSS Ramanuja Swamy, provided by his sons Sri PSS Gopalan (full name Paravastu Samavedam Anantha Padmanabha VeNugopala Seetha Rama Singaracharya Swamy) and Sri PSVA Swamy (full name Paravastu Samvedam Veerararaghava Appangar Swamy).
A brief introduction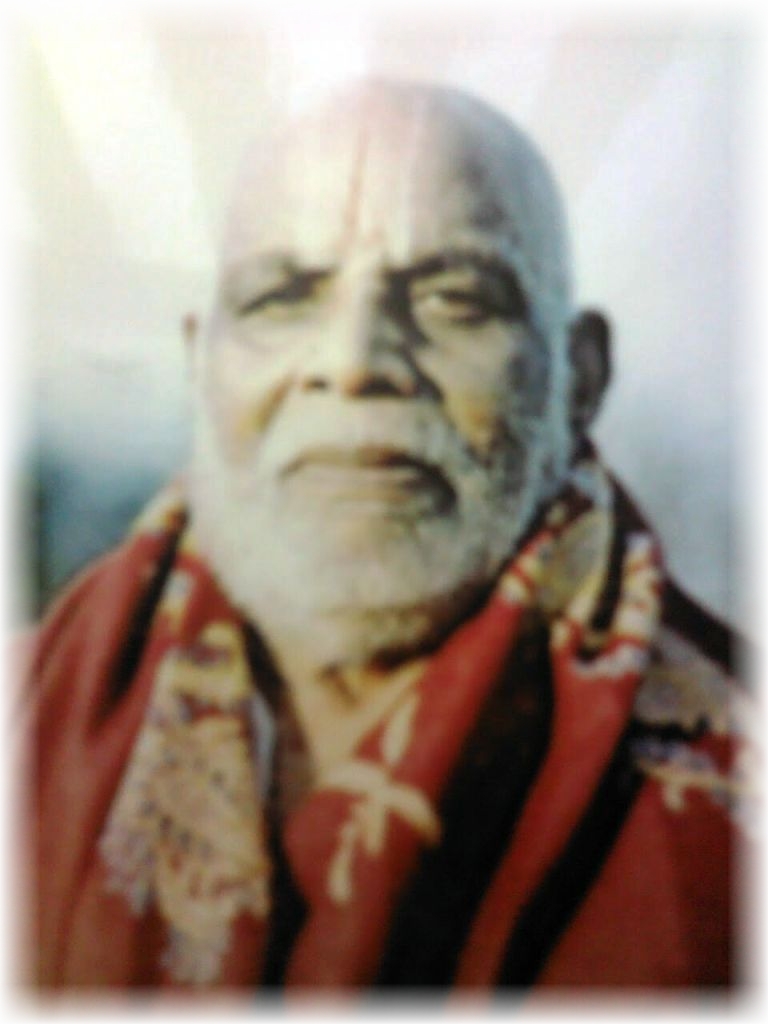 Sriman U. Ve. Paravastu Samavedam Srinivasa Ramanuja Swamy (1915-2001), Vidwan, Vidya PraveeNa, was a Sanskrit and Telugu Pandit. He received adhyayanam in Jaimini Samavedam and Yajurvedam from his father and Acharya, Sreeman Samavedam Singaracharyar of Gutala.
His forefathers hailed from Azhvaarthirunagari of Thirunelveli Dist., Tamilnadu and the family migrated to Gutala, West Godavari District about 200 years back. Sriman PSS Ramanuja Swamy, born in June 1915, was the second son of Sriman Singaracharyar and Smt. Sithalaxmi, natives of Gutala. He pursued Sanskrit studies at Oriental College, Thirupathi, and Maharaja Sanskrit College, Vizaianagaram and came out in first class with Vidwan and Vidyapraveena. He was a recipient of gold medal of Andhra University. As a student, he acted as Dushyantha in the drama Abhignana Saakuntalam and was known as Dushyanthaachayulu to his friends. He worked as Sanskrit and Telugu Pundit at Zilla Parishad High School, Samalkot, East Godavari Dist., Andhra Pradesh from 1942 to 1973.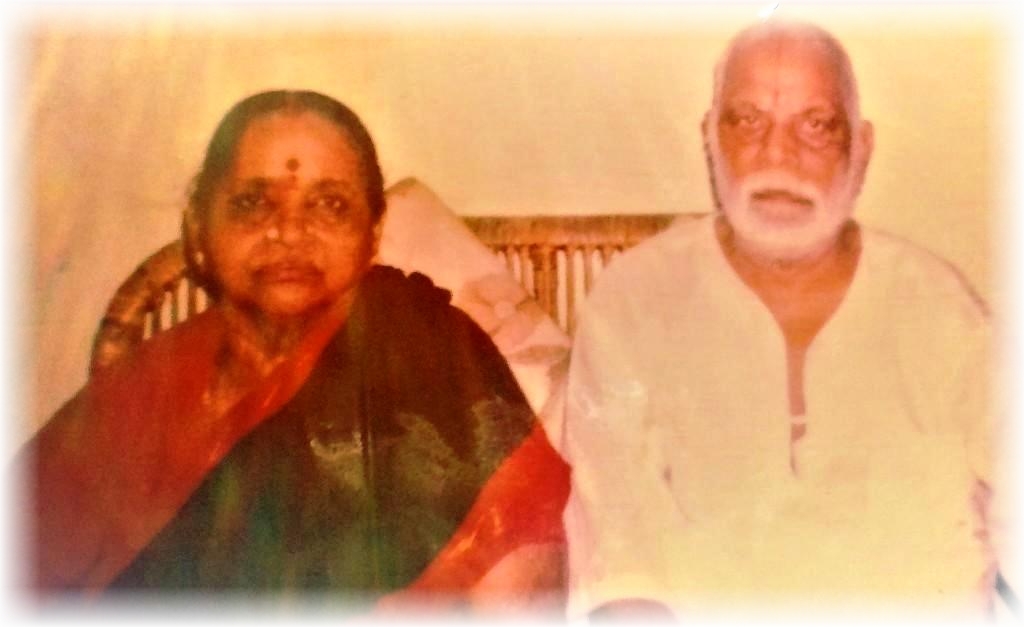 He was married to Smt. Andalamma (October 1922 - April 2015), who was the daughter of Sriman Nadadoor Srinivasachariar and Smt. Rajalaxmi. Sriman Srinivasachariar was Rajaguru of Bobbili. Sriman Ramanuja Swamy had 5 sons and 2 daughters. He led a very pious spiritual life and was well respected in the society.
It is worth mentioning, that when Sri Sribhaashyam Appalaachaaryulu garu, Visakhapatnam or Sri Prathivaadi Bhayankaram Anangaraachaya Swamy, Kancheepuram were in discourse and happened to notice Sri PSS Ramanuja Swamy available there, they used to give pause, invite him to the dais to make the gathering hear his gambhiryam in saamaveda chanting. Ex RBI Governor HVR Iyyengar, in a marriage occasion heard his saamaveda, invited Sri PSS Ramanuja Swamy to his home to have the honor of hearing it again.
He attained Acharyan Thiruvadi at 86 in July 2001.
Originally the present works were scripted in Telugu on Palmyra leaves by Late Shri Samavedam Veeraraghava Appangar Swamy, great grand father of Sriman Ramanuja Swamy. Later it was copied on to paper in succession by his son Ramanujachariyar, his son Singaracharyar, and his son Shri PSS Ramanuja Swamy. His son Sri PSS Gopalan has taken up digitizing the hand written books of his father Sriman PSS Ramanuja Swamy, since the paper is aged and on the brink of destruction.
In Sri PSS Gopalan's words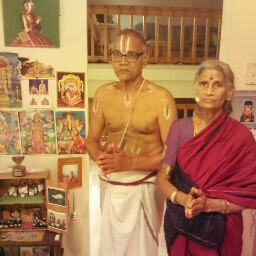 "My father is my AACHAARYA as well. His hand written books POORVA and APARA Prayogams were on verge of destruction due to age of the paper. So, I wanted to save them and started digitizing. My father's great great grand father has written samaveda panjaadis in Telugu on palmyraha leaves which we preserved in our kovil azhvaar. While digitizing, panajaadis were also included.
I have also digitized major part of samavedam pertaining to shodasha karmas. The digitization was done in a continuous manner without any need to refer back for repetitions for any prakriya. Jaimini Samaveda Poorva prayogam is done up to Vivhaaham. If it can be of use to students of veda pathasaalas, I feel it is blessing of Vedapurusha as well as Swamyji. I am still continuing the remaining parts of shodasha karmas.
I have also digitized Thiruvadhyayanam ParvaNa vidhaanam and Sankalpa vidhaanam.
Jaimini Samaveda in Telugu script - Newer set of pdf files from 2018
Jaimini Samaveda in Telugu script - Older set of pdf files from 2017
Jaimini Samaveda Audios - mp3 files
I have also recordings of veda by my father in a CD recorded by me and I have also recorded my voice in mp3, which my father taught me just to preserve the subject. If it will be of any use to veda pathasaala students, it is a pleasure to share."
Valmiki Ramayana in Telugu script - pdf files
"I digitized Sreemad Valmiki Ramayanam in Telugu script for my ease of parayanam on tablet. I am sure some more bhagavathas will also utilise it from the following pdf files.