ॐ
ॐ सद्गुरुश्रीत्यागराजस्वामिने नमो नमः
यस्य देवे पराभक्तिः यथा देवे तथा गुरौ।
तस्येते कथिता ह्यर्थाः प्रकाशन्ते महात्मनः।।
The inner meanings and import of the scriptures become evident to that noble seeker
who has supreme devotion for the Lord and the same intense devotion to his Guru.
About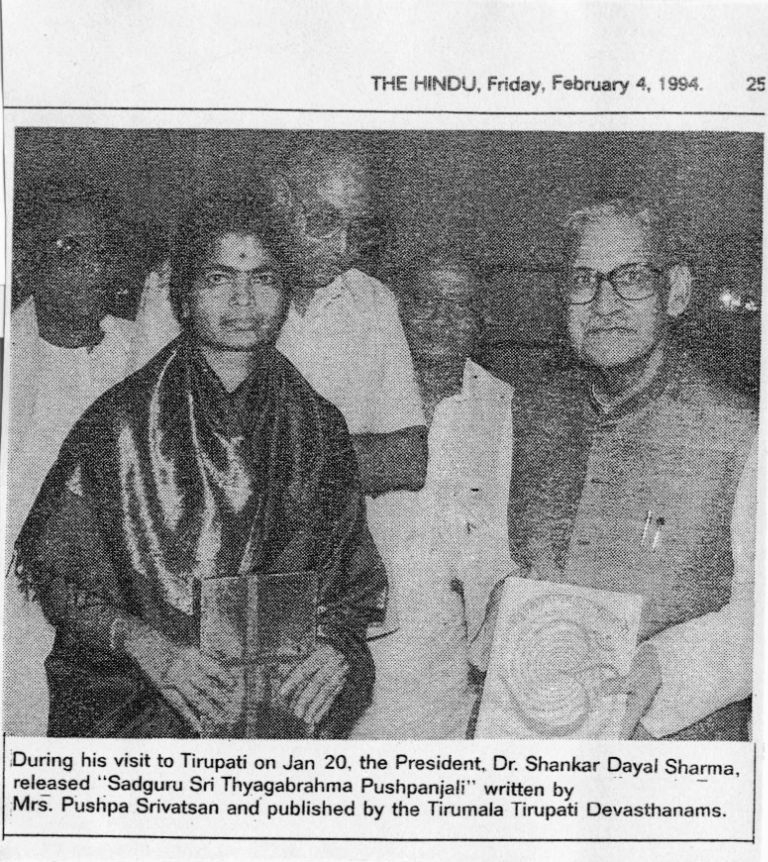 "Smt. Pushpa Srivatsan, a staunch Bhaktha of Saint Tyagaraja, possesses unique knowledge of music and insight into the Saint's life purely out of her own inspiration. She is a disciple of Saint Tyagaraja even as Ekalavya was to Drona. Her discipleship does not just confine to music; it inlcudes her spiritual pursuit. She looks upon Saint Tyagaraja as her Upasya Devata. She has earned His blessings in full measure and this is borne out in her outpourings in the form of these unique and unparalleled compositions."
"These stotras in beautiful Sanskrit are thrilling revelations, excellent in style and substance, to be cherished by all devotees and music lovers. They are very useful for prayer and worship."
Books
---
---
---
---
---
---
Booklets in pdf format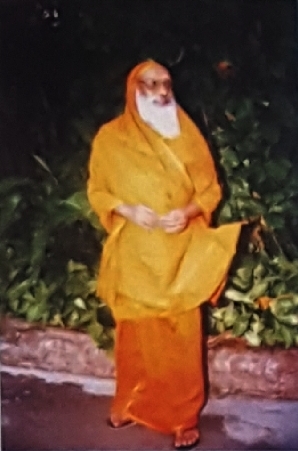 A bunch of stotras on Swami Sri Dayananda Saraswati, founder of Arsha Vidya Gurukulam.
The booklet has:
Sri Taranandagurvashtakam,
Sri Dayananda Panchakam,
Sri Dayananda Saptakam,
Sri Dayananda Ashtakam,
Sri Dayananda Mangalashtakam,
Sri Dayananda Dashakam and
comments from Swamiji.
---
---
Stotras Published in Arsha Vidya Gurukulam Newsletter
Reviews
Books by the author yet to be published
1. Sadguru Sri Tyagabrahma Saptasati - This is in the form of 7 Ashtottatasatams for worship. In the first Ashtottarasatam, each nama begins with 'Sa". In the second, with "Ri". Similarly, the rest with "Ga, Ma. Pa, Dha" and "Ni". Thus the Saptasati is a Saptaswaravali.
2. Sadguru Sri Tyagabrahma Sahasrakam - This contains about 500 Slokas describing the Sadguru in more than 1000 names. This is a new composition, not to be confused with the earlier Sahasranamavali in Pushpanjali. This talks about the Sadguru's parentage, life, music, teachings and philosophy.
3. Sadguru Kiirtanavali - This contains about 1000 Slokas, each one depicting a Kirtana of the Sadguru.
4. Sadguru Gadyatrayam - This contains 3 Gadyams on Sadguru - Panchanada Gadyam, Sangiita Gadyam and Sri Rama Gadyam.
5. Stotra Pushpavali - Stotras in different meters on various deities that occurred to her during Puja.
6. Sri Dayananda Stotravali - A bunch of stotras on Swami Sri Dayananda Saraswati, founder of Arsha Vidya Gurukulam.
Audios
---