Critical Edition Prepared by Scholars at Bhandarkar Oriental Research Institute BORI Entered by Prof. Tokunaga and then maintained/updated by Prof. John Smith
Devanagari (and other Indian scripts from each sarga page)
Devanagari PDF
ITRANS Text
xdvng Font HTML
In 1998 we converted to devanagari the CSX version files prepared by Prof. John Smith based on the original encoding of Mahabharata by Prof. Muneo Tokunaga of Kyoto, Japan. Prof. Tokunaga's files were based on the critical edition of Mahabharata, published by Bhandarkar Oriental Research Institute (BORI).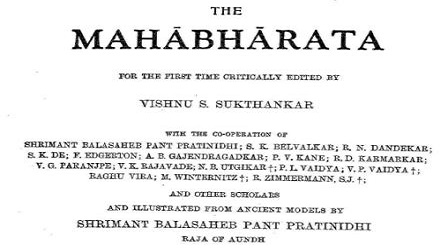 The
comprehensive Prolegomena ( Vol. I ), written by V. S. Sukhtankar, the general editor of Mahabharata at BORI
(file 12 Mb) gives details of the methodology of the BORI Mahabharata project. (See
text file with English portion
)
Prof. John Smith's Mahabharata Page gives details of the recent project regarding the proofreading and correction of the electronic text of the critical edition of Mahabharata. The updated etext files are available in unicode devanagari also. You need to register at his website to download all the latest files including the appendix and star passages.
Use the accordion menu above to access the e-text of Mahabharata Critical Edition in ITRANS, xdvng font, utf-8 encoding and pdf formats. Since the files are large, we recommend that you download the files to your computer and access them locally. If you would like the files in another Indian regional script please write to sanskrit@cheerful.com.